Reading Time:
4
minutes
W.B. Yeats once said, "There is no wisdom without leisure." But what if wisdom became leisure? People work to earn their leisure. But what if work itself became leisure? With this in mind comes the term "bleisure" travel.
What is Bleisure Travel?
Bleisure – where the lines between professional and personal get blurred, as do the distinctions between work and play. It is the end of hard labor and the kick-start of fun labor. Bleisure trips combine both business and leisure by not being committed to the sole purpose of working or having fun.
It's the portmanteau of the two words "Business", and "leisure". It's a new trend in travel that is rising in popularity.
Rise of Bleisure Travel
The term was coined in 2009 but didn't gain popularity until 2016. Since COVID left a mark on society, people have become more conscious of their work-life balance. Owing to that, various companies now provide better working hours, flexibility, paid leaves, and extended work trips.
Why choose Bleisure Travel?
Bleisure travelers extend their work trips over the weekends or sometimes weekdays for non-work activities on the same trip. Since the company covers the flight costs as well as a few days of hotel expenses, bleisure trips tend to be more pocket friendly. Almost 9% of the workers add personal travel to their business to save money.
Bleisure trips offer the possibility of traveling with a companion, be it family, a partner, or friends.
It helps employees boost their morale and keep them in the right frame of mind. At the same time, bleisure trips reduce the stress of work and create a well-balanced work life with increased productivity. Bleisure trips also assure the employees that business trips are worthwhile.
Bleisure becomes a treasure for companies.
The hybrid environment in a company not only helps the workers but also the company. Companies that allow their staff to add leisure to their business trips experience higher employee satisfaction and decreased turnover without incurring any extra costs.
Employees are better rested and adjusted to the time zone after their long-haul flight if they arrive at their destination a few days early. Thus, they can make a better impression. If business travelers choose to prolong their stay, the leisure portion of their trip is the dangling carrot incentivizing them to complete their work more efficiently.
Bleisure becomes more leisure.
According to Expedia, 43% of business trips now include a leisure component. Bleisure travelers are also prone to adding another city for the leisure part of their trip. As reported by a survey, 27% of travelers add an extra city to their leisure journey.
Bleisure trips offer the possibility of traveling with a companion, thus dealing with boredom and isolation. According to a survey, more than 50% of bleisure travelers take friends or family with them.
According to a joint Expedia Group and Luth Research study, 66% of people are inclined towards bleisure travel if they travel to an exciting destination.
Following the same study, 51% of people are attracted to a trip if the trip is close to the weekend or holidays.
Similarly, 59% of people prefer that the additional costs of the trip are minimal and that the travel experience is cost-efficient.
About 44% of people favor bleisure holidays that enable experience and exploration. The three most popular activities usually include sightseeing, dining, and art and culture.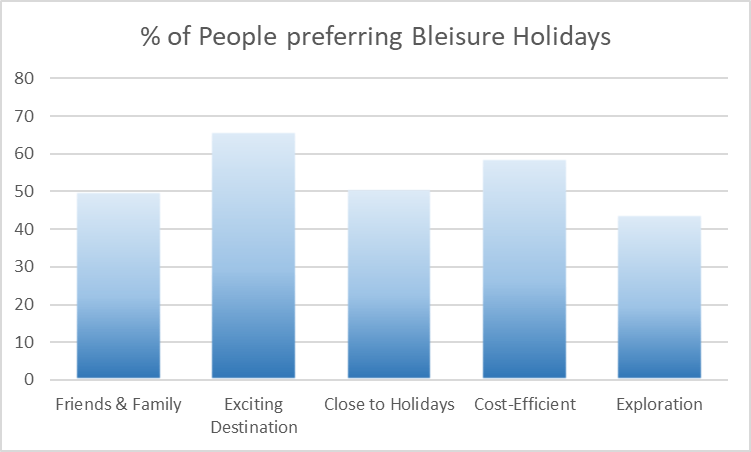 Who prefers Bleisure Travel?
A joint Expedia Group and Luth Research study found that bleisure travelers work in a wide range of different industries. The most regular are technology, healthcare, public administration, and manufacturing.
In the survey among 800 corporates and small businesses in India, younger millennials (25 to 34 years old) had the highest appreciation for bleisure travel, with 75% considering it a major work perk. They were also the most likely group to extend a business trip with colleagues (25%).
50% of respondents in the age group of 50 would use the opportunity to travel with a family member or partner. 25% of the respondents were more likely to use the time to visit friends and family.
About 3% of the respondents added personal trips to recover from the jet lag before commencing business meetings.
These figures highlight the growth of business travel as a whole and the fact that leisure is becoming a key part of modern business trips.
Overcoming Bleisure Problems
The only thing that might interfere with the bleisure trips is time. Thus, it is crucial to have an excellent time management schedule.
Taking down a note of the prime focus of the trip along with different deadlines can help overcome this problem. One can also prepare for meetings while traveling to get the most out of the travel time. In the process, becoming friendly with the sightseeing places and leisure activities beforehand will be extremely beneficial.
TaxiVaxi for your perfect Bleisure experience
TaxiVaxi offers companies and their employees an ideal and flawless travel experience. They take care of their clients by providing high-end services and going the extra mile for them.
With 10 years of team experience, reliable technology, and an outstanding problem-solving approach, the company assists its clients at every step. Alongside a quick response time, TaxiVaxi helps its clients reduce their workload and share their responsibilities.
To fulfill their promise of imparting the finest quality, the company has a knowledgeable and qualified team with varied skills to assist you.
TaxiVaxi builds the perfect bleisure trip for you by focusing on client satisfaction and pleasure.
Ready to redefine your business travel? Take the first step towards your perfect Bleisure experience by clicking here!